I am so excited to share this new with you! I will be opening my first retail location at 400 Fairview in South Lake Union by the end of the year! 400 Fairview is a European style open air market that will feature local, curated food and retail vendors on the first floor with offices and a rooftop restaurant above.
Our vision for the store is a place where you can come to admire the beauty of flowers and let us create captivating floral and living arrangements for your every need. We are a full service floral design shop, whether it be a floral for your office, a plant for your home or a full scale party we are available to bring beauty to you! We will also be selling Rifle Paper Co. greeting cards, potted plants, terrariums and other specialty gift items. Please visit our services section for more details on what we offer. If you don't see what your looking for, let us know, we're here to help.
Shop Offerings:
-same day delivery
-custom designed arrangements
-flowers by the stem
-hand tied arrangements
-potted plants, terrariums, succulent gardens and orchid planters
-floral design classes
-hand selected greeting cards
How it came to be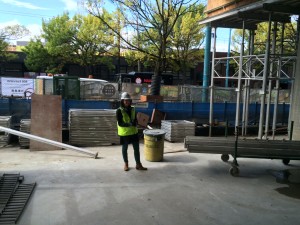 Me at 400 Fairview-September 26, 2014.
It was a beautiful, busy Summer and this venture has been a long time in the making. It started last September when I was approached by a broker I had previously worked with about 400 Fairview. We went for a site visit, I was overwhelmed. It was a huge shell of a building and I couldn't imagine myself in it. As I was walking through the site I was reminded that the foundation of the building was one of my floral wholesalers that moved to Georgetown. I remembered that almost all of the floral industry vendors used to exist in South Lake Union, they have now all migrated South. It felt serendipitous but yet I wasn't sold.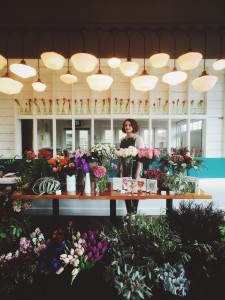 My first Pop-Up February 14, 2015.
As the year progressed I continued to grow my business with the hope that a retail space would be at the end of the rainbow. There were struggles and on a personal note we lost our dog of thirteen years at the end of January. It was devastating. Two weeks later I had my first pop-up shop at Brimmer & Heeltap for Valentines Day with Parchment Bakery. My friend Haris of Haris Kenjar Photography came to the photograph the event. The images he captured and created were stunning and a perfect representation of the day. The pop up was a success and Laura of Parchment invited me to join her pop-up every other Sunday at Brimmer & Heeltap for a morning of flowers & baked goods.  As the pop-up's progressed, I really appreciated being out of studio and meeting customers. It re-affirmed my desire to open my own shop. I was grateful, I had a place to land, a place to belong. Brimmer & Heeltap  and Jen Doak gave my floral business the boost it needed to get it's little engine running and flowers, once again, showed me the way out of my grief and into the light.
I had almost settled on another space in the Spring when I heard from SKANSKA. We had a nice chat and I came down to see the space one more time. I was blown away, it was beautiful! It looked nothing like the shell I had stood in last September. It felt warm and I was able to see myself in the space. I was excited and terrified. I like to call it excitified. A word I made up to describe this process, a confused state of excited and terrified. I knew that the opportunity had real potential when I left that day. I was in shock. We were in shock. Scott, is the "we" and I should say that without him I don't know where I'd be right now. He kept me level and helped me stay the course. My husband is my champion. Some time went by, the legal paperwork started, I was excitified hourly, daily, weekly and then a few months later we finally signed the lease! It still feels like a dream some days.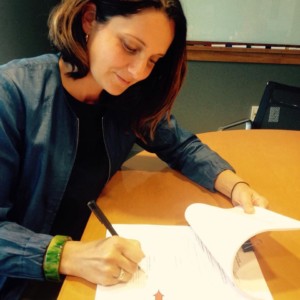 Lease signing, August 25, 2015
So, here I am entering a new chapter of my life and business. Beginning to buildout and create a space for my dream. It's really happening, somebody pinch me! Being the owner of my business has shown me that this journey is about more than just the daily grind. It's about believing in myself, putting my vision out there, chasing after a dream and bringing the beauty and light of flowers into others lives. Flowers are my passion, they are healing, make people smile and I thank my lucky stars everyday that I have the privilege of working in the industry. I look forward to bringing that passion and beauty to you!
Ciao for now,